Federal hazardous materials regulations are complex and can be a pain, but for anyone who ships items that fall under this category, compliance is essential to business continuity. In this guide, we share what we know about shipping hazardous materials around the world.
If there's a specific organization that you to be on good terms with, it's the Department of Transportation. The department is in charge of regulating the hazardous materials transportation act (HMTA). According to the law, any agent, officer, or employee of the department has the right to inspect and examine documents and properties relating to transport, shipping, manufacturing, maintenance, distribution, and transportation of any hazardous materials.
Essentially, what this means is that if you transport or ship hazardous materials for business reasons, you are subject to inspection at any time. If requested, you must produce the required documentation and provide adequate access to the inspector for examination.
Knowing that this can happen, it is in your best interest to comply with federal guidelines. Keep your documentation up to date and easy to access, label your shipments correctly, and continually train your employees in hazardous materials safety, as well as regulatory requirements.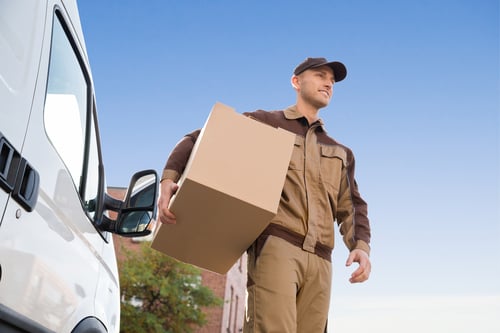 Does the HMTA Apply to YOU?
The hazardous materials transportation act applies to any commercial carrier who ships hazardous goods, either interstate or overseas, by rail, air, sea, or over the road.
This act also applies to manufacturers who make containers that are intended to hold hazardous materials. Containers must be certified, approved, and periodically inspected for integrity.
All carriers must obtain a Hazardous Materials Safety Permit to be compliant under the act before they can transport the following items:
Radioactive materials
Explosives
Any material that is poisonous by inhalation (a poisonous gas)
Compressed or refrigerated liquified methane
Infectious substances
Combustible materials
Flammable gas
Non-flammable gas
Flammable liquids and solids
Organic peroxide (oxidizing substances)
Corrosive materials
Lithium batteries
Paint
Some cosmetics and perfumes
Materials that fall under the HMTA must be packaged, inspected, and labeled in such a way that they do not pose a safety risk. This means that all packages must be adequately described, classified, labeled, packaged, marked, and in good condition for transport.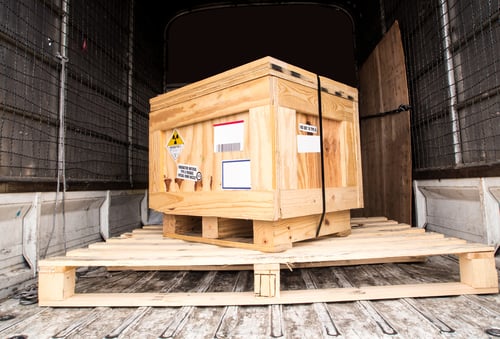 What Happens If You Are Non-Compliant?
If you are found in violation of the act, both the driver and your company may be subject to significant penalties, including criminal charges.
The maximum that an individual can be fined for an HMTA violation is currently $79,976. If it is determined to be a criminal matter, that fine can increase to $250,000 for the individual and $500,000 for the company they work for.
If the violation results in death or significant injury or damage to property, those numbers can go up dramatically and may include prison time of up to five years. Yikes! It's best to stay compliant with the hazardous materials transportation act for the sake of your company and your team members, don't you think?
Correct Labeling.
It is vital that your team members label all hazardous materials packages correctly to avoid HMTA violations and to safely deliver them to their final destination.
For instance, items containing alcohol must also be declared and labeled appropriately or risk significant fines.
In one example, a retailer was fined $140,000 because of an improperly labeled shipment of nail color—which should have been labeled as a flammable liquid—and a sunblock, which should have been labeled as a flammable gas.
Not All Packaging Is Suitable For All Shipping Methods.
Determining the correct packaging for hazardous materials is very important. Having material handling data sheets on hand for each product is also essential, as they will tell you how items will need to be packed, how many items per package, and so on. Keep your Material Safety Data Sheets up-to-date and easy to access to maintain safety and compliance.
Packaging materials, shipping name, class of hazard, and UN identification numbers can be found in the Hazardous Materials Table, part 172 of the act.
The Correct Documentation Is Critical
Finally, be sure to provide the proper documentation so that your delivery will be successful.
ShipHAZ is an SAP-enabled module that is designed to simplify the hazardous materials shipping process. To support your compliance, ShipHAZ generates all required hazardous materials labels, codes, and forms to ensure that the process is easy to navigate and in accordance with the HMTA.
In a recent example of improper oversight of hazardous materials shipping, a San Francisco company was fined $100,000 and criminally charged when it was discovered that they had failed to declare imports of toxic substances. The company had instructed its employees to label hazardous substances improperly in order to avoid HTMA requirements.
Because of its fraudulent documentation, the suspect company lost its CEO, and the case went to criminal court. The company was found liable – not only because they did not label their shipments accurately, but they also failed to train their employees as set out in the act.
The company was allowed to continue doing business, but the outcome could have been much worse. They were given a second chance only by merit of the fact that their CEO took full responsibility. The company also agreed to retain an independent party to oversee their hazmat compliance for three years.
Get Them Certified: Continuous Training and Education Assure Compliance
All hazardous materials handlers must be up to date with current laws and regulations. This means anyone who loads, unloads, handles, packs, or preps for shipment, and anyone who operates a vehicle that transports hazardous materials should be certified in 49 CFR, which is title 49 of the Code of Federal Regulations.
Under the code, a Hazmat Employee also includes anyone who designs, manufactures, fabricates, maintains, repairs, tests, or packages hazardous materials, or any hazmat components.
Furthermore, reinforcing and updating this highly specialized training on a regular basis will ensure that employees have up-to-date functional knowledge of legal, compliance, and safety concerns surrounding hazardous materials.
The initial training should be completed within 90 days of hire or change of job function and repeated every three years or when appropriate, considering any changes in federal policy.
This training should include:
Familiarization with the job requirements and all hazardous materials.
Function-specific training that is relevant to business activities.
Safety training (e.g. knowing how to protect oneself and how to respond in case of an emergency).
Security awareness training to ensure employees are aware of potential threats and know how to respond to them should the need arise.
Detailed security training addressing the company's expectations and business objectives, including what to do in the event of a security breach.
Employers will need to keep training records on file for each employee, starting with any prior training they may have had. These documents must be kept for the duration of employment and for a minimum of 90 days following the end of their time at the company.
Are You in Compliance with Title 49?
Maintaining your hazardous materials compliance is essential to your continued operation. However, with such a complex regulatory environment, how can you be sure you've covered all the bases?
We've created ShipERP, the SAP-certified shipping software that provides you with real-time visibility into all of your HAZMAT shipping and processing. We want to help you sleep better at night, knowing that your company is in full compliance with federal and international hazardous shipping laws.