With COVID-19 disrupting supply chains around the world, logistics digitization helps to prevent your business from collapsing under the fallout. With these digital transformation strategies, you can mitigate pandemic effects and prepare for supply chain demand fluctuations.
As we've seen in the past few months, many businesses faced logistics challenges presented by COVID-19. The unpredictable speed and scale of the current outbreak caused extensive changes to consumer lifestyle that businesses need to adapt to.
You've seen your peers juggle with reduced air freight capacity and/or scramble to find raw materials for production. Companies hustle behind-the-scenes and struggle to balance the safety of their supply chain, delivery team, and customers.
Uncertainties leave businesses searching for solutions that manage volatile demand and protect their supply chains in the future. A digital transformation is the solution to the disruption not only during COVID-19 but also post-pandemic.
So, how can digitizing your supply chain help you adapt to COVID-19, as well as be prepared for potential disruptions?
Reduce the "bullwhip effect" with a fully transparent supply chain.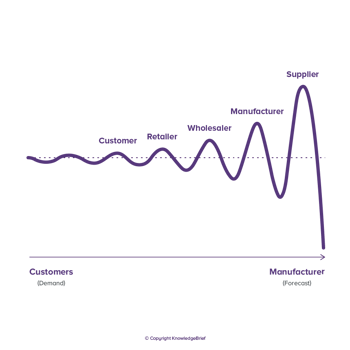 The bullwhip effect refers to increasing fluctuations of inventory in response to shifts in customer demand. This means a change in customer demand can cause massive inefficiencies up the supply chain. We can see this effect in consumer behavior with the surge of panic-buying all around the world due to COVID-19 causing shortages or surplus of inventory in different industries.
With digitization, you can be better prepared and quicker to respond. The right solution allows you to gain full visibility of your supply chain and, therefore, have greater control at every stage of the product lifecycle. By understanding where your inventory is, you can leverage the insights and data to easily accommodate for sudden shifts in demand.
Reduce the bullwhip effect and prevent major disruptions up the supply chain with a digital transformation of your supply chain.
Consolidate all information into one location for a better streamlined flow.
Your supply chain can't be responsive without having all the information to make critical decisions during disruptions of any kind. A rigid supply chain with silo-ed processes aren't adaptable to sudden changes in demand. Companies like yours are forced to quickly act to scale their inventory to meet demand, or collapse.
If you must make fast decisions, it's best to be well-informed! Centralize all supply chain records where they're easily viewed, modified, and managed. With information at your fingertips, your company benefits from greater transparency and more efficient workflows.
The visibility of information across your organization reduces risk for costly error. Without digitization in a centralized server, manual updates of information increase chances for mistakes. Prevent minor problems that can snowball into larger issues throughout the supply chain with a digital transformation.
With centralized information, make strategic, data-backed decisions to be proactive.
In a fast-moving industry, it's challenging for companies to be prepared for disruptions like COVID-19. With the best-suited technology, it's possible to gain better insights into your supply chain to protect your business with proactive data-driven decisions. Identify your weaknesses with analytics gained through centralized data to strategize solutions for a resilient supply chain.
Enable a free flow of information with your partners using technology.
Give your company power to collaborate with various partners involved at each stage of supply chain to enable faster action at the face of disruptions. Communication is key to build a strong supply chain that is prepared to quickly respond to sudden change. Technology that connect you to your suppliers and carriers in real-time can revolutionize the way your supply chain works.
Take this time to evaluate your partnership strategy! In order to create a flexible supply chain that is robust to challenges, diversify your suppliers to avoid relying on any one supplier to mitigate effects of disruptions. With multiple key partnerships, it's possible to avoid halting or slowing down your supply chain cycle. Your business can run as usual!
Gain real-time visibility and expedite your shipping with seamless communication with your partners including both suppliers and carriers. Leverage technology to save costs and enhance collaboration by standardizing order processes and deliveries.
Key Takeaways
It's time to digitize your supply chain!
From what we've learned in the past few months during the pandemic, the best course of action for your company now is to adapt to the current changes and to be prepared for future challenges. With technology, your supply chain can be centralized and transparent for you to effectively communicate with partners, mitigate disruption effects, and make data-driven decisions.
We provide ShipERP, the multi-carrier shipping and compliance solution that integrates with SAP. ShipERP provides businesses with the ability to rapidly ship products during the pick/pack/ship process and selectively adjust shipping services on the fly.
With the technology behind ShipERP, you can add on solutions that gives your supply chain a digital transformation. Take your supply chain logistics to the next level with modules that can automate freight audit reports, communicate with suppliers and/or carriers, and validate addresses.