SAP S/4HANA is an ERP software that is vital for succeeding in the shipping industry. The platform can increase business agility, add efficiency through automation, improve accuracy and turnover rates, add transparency to warehouses, and help businesses augment their security, governance, and compliance strategies.
Digital transformation is a staple of post-modern supply chain companies from procurement to shipping and logistics. By utilizing vast swathes of data, companies are able to peek into the future to make better business decisions, better utilize their products, add efficiency to their workflows through automation and insight, increase their security, and build better relationships with their customers and other businesses whom they work alongside. Various technologies—such as machine learning—and software options, especially in the ERP realm—like SAP S/4HANA—are utilized by businesses who want to take the next steps in their digital transformation process.
What is SAP S/4HANA?
SAP S/4HANA is an ERP software solution that benefits a wide range of industries and use cases. The S/4HANA solution is built specifically with large enterprises in mind - businesses that have complex needs, demand for the latest in digital transformation solutions, and the requirement to quickly utilize data to stay competitive. This specific offering from SAP is intended to cover all day-to-day business processes at the enterprise scale.
S/4HANA offers an array of embedded analytics solutions that can be combined with transactional data on a single dashboard as well as reports in a variety of formats. Its a great win for large businesses that manage many sources of data while trying to suss out the most relevant information on which to act upon.
In shipping, SAP S/4HANA combines nicely with ShipERP, the embedded SAP Transportation Management (SAP TM), and SAP Extended Warehouse Management software, all the while expanding their capabilities.
How Can S/4HANA Transform Shipping?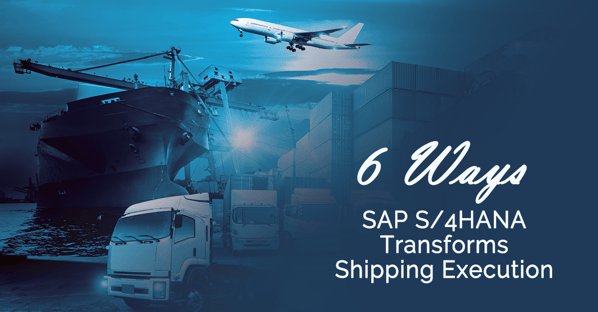 While SAP S/4HANA poses an opportunity for transformation in an array of industries and verticals including finance, procurement, sales, manufacturing, and more, it offers array of benefits to the shipping industry. The following are six ways SAP S/4HANA can play a role in the digital transformation of business processes in the shipping industry:
Increased Agility
Acting fast is the name of the game in modern businesses—without it, businesses practically ensure their own failure. At the enterprise level where there are many moving parts, it is vital for businesses to utilize their resources to make quick changes that move swiftly and allow agility to flourish. S/4HANA helps businesses in the shipping industry stay agile through the use of their integrated platforms, analytics, and reporting, so those in charge of making decisions are able to do so quickly and accurately―and before their competitors.
Especially in shipping where needs and capabilities can change overnight, the opportunity to utilize real-time data then immediately see its impact on the company allow decision-makers to make faster, wiser decisions based on legitimate information rather than needing to operate on intuition alone. Whether this data has to do with shipping and transportation machinery, inventory levels, warehouse information, the weather, road conditions, or anything else that may impact a shipping business, the ability to integrate a business's own relevant data sources is one thing that makes SAP S/4HANA itself so versatile. This can offer a competitive edge as well as increased productivity and overall profitability for shipping businesses who utilize these functions.
Efficiency Through Automation
Automation is the way of the future. Shipping and transportation are perhaps the most prime examples of modern automation at play. Whether it be through the incorporation of artificial intelligence—specifically, machine learning—for decision making or intelligent, bots for warehouse picking and packing, the shipping industry is revamped by the use of automation technology. In a world where online sales have overtaken in-store, brick-and-mortar purchases, it is no surprise that the shipping industry needs to reallocate resources from some basic decision making and literal heavy lifting to automated machine-supported cohorts.
SAP S/4HANA supports shipping businesses in their automation strategies by allowing them to aid their shipping processes as a whole, integrated with data from their warehouses, transportation, and even manufacturing. S/4HANA utilizes many out-of-the box AI and robotics solutions, as well as predictive analytics to bolster enterprise automation efforts.
Improved Accuracy
Because SAP S/4HANA is a unified system that can cover the full spectrum of business processes within an enterprise shipping company, it is far less likely that decision makers will miss critical data, versus attempting to view information spread across disconnected systems. Similarly, because SAP S/4HANA utilizes its own analytics system (including predictive analytics), businesses can rest assured that their data is more accurate than that which would otherwise be aggregated and analyzed by a human who would introduce the risk of human error.
In the shipping industry, SAP S/4HANA helps businesses improve inventory accuracy. Especially in conjunction with automated processes, inventory can be managed in real-time with little to no human resource consumption and with impeccable accuracy.
Faster Turnover
While SAP S/4HANA improves inventory accuracy, it also helps increase inventory turnover rates. By utilizing AI and predictive analytics, shipping companies are able to make smarter, better-informed decisions regarding supply and demand using real-time insights that would be unreachable by a humans, factoring in huge amounts of data that would make this too tedious and slow of a task for employees to manage.
Transparent Warehouses
Transparency is both a demand of the modern customer and a necessity for modern businesses. In the shipping industry, warehouse transparency is of vital importance. Inventory transparency leads to increased visibility and operational efficiency, better inventory and loss management, and more reliable customer and supplier relationships. SAP S/4HANA helps to provide the level of warehouse transparency needed to stay relevant in the modern shipping industry.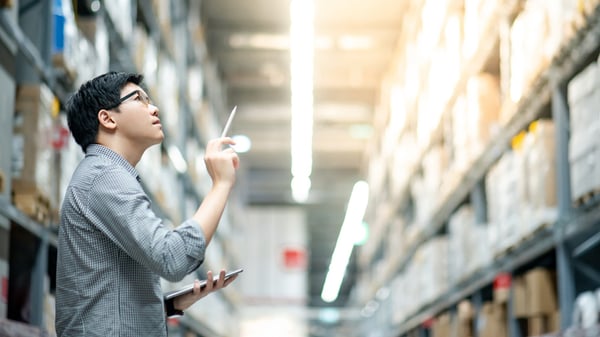 Security, Governance, and Compliance
In the modern world, where customer data and proprietary business data are both widely coveted, reliable security in all digital systems is not to be underestimated. SAP has a great reputation for being trustworthy, so S/4HANA-enabled companies can rest easy when it comes to the safety of their information. Because S/4HANA is an all-in-one ERP software solution, businesses that utilize it have the comfort of not needing to exchange data between multiple systems which could lead to security weaknesses.

In terms of compliance, SAP-integrated shipping solutions such as those offered at ERP Integrated Solutions can assist a variety of companies with compliance regarding hazardous materials, address validation, exporting, and denied party screening.
ShipERP Transforms Shipping with S/4HANA
We provide SAP-integrated solutions for all of your shipping needs from small parcel to LTL to FTL loads. With a variety of carriers by our side, we can assist with warehousing, freight auditing, shipment planning and transportation, compliance, and more.