SAP S/4HANA changes the game for your supply chain because it opens up doors for agile execution and planning possibilities. We've compiled comprehensive tips and tricks to ensure your company seamlessly migrates to S/4HANA.
Every company faces the pressure of performing better and faster with a greater focus on customers. So how can you gain and maintain a competitive edge in your industry?
Empower your supply chain with greater visibility and insights to quickly capitalize opportunities as soon as they become available to you. Take your supply chain to the next level with SAP S/4HANA.
SAP S/4HANA is an enterprise resource planning (ERP) system that transforms business processes with automation using built-in intelligent technologies, including machine learning and artificial intelligence. With this system, you can advance your company goals with valuable insights gained by powerful forecasting technology.
Why Transition to SAP S/4HANA?
Become an SAP intelligent enterprise with S/4HANA to be more agile in a fast-moving environment and more optimized for sustainable growth. SAP S/4HANA's features and benefits include:
In-memory, columnar database to reduce half of your data footprint
Embedded AI technology for improved insights and performance
Real-time analytics for accurate forecasts and better decision making
Industry-specific business processes to gain better workflows
Consumer-grade user experience across devices for increased productivity and reduced errors
Let's take a closer look at how the platform can benefit your supply chain logistics! SAP S/4HANA is an opportunity for businesses to kickstart their digital transformation of your supply chain. Here's why:
Increase agility to be responsive: S/4HANA's analytics and reporting enable real-time data of the supply chain to make faster and well-informed decisions.
Enable automation strategies: Whether you're using automated machines or making decisions using machine learning, S/4HANA's integrated platforms can boost your enterprise automation efforts.
Increase accuracy of forecasting: Because of S/4HANA's centralized system and predictive analysis, you can rest assured that you'll be well-prepared for any changes in demand and supply.
Increase visibility of warehouse operations: Gaining total visibility of your warehouses using S/4HANA will create efficient inventory management and enhance positive stakeholder relationships.
Want to learn more about how your supply chain benefits from implementing S/4HANA? Read about how S/4HANA can transform shipping execution.
Not only does your company gain advantages granted by S/4HANA, but companies are also encouraged to migrate as 2027 is the end-of-maintenance deadline for SAP ECC. Get ahead of the curve and gain a competitive edge over your peers by solidifying an implementation plan for S/4HANA!
A resource to understand the value of SAP S/4HANA for your business:
Building Tomorrow's ERP with SAP S/4HANA (openSAP): A FREE online course about how SAP S/4HANA can change the way you do business. The course focuses on understanding the solution's functionalities, user experience, implementation, and more.
Building a Business Case for SAP S/4HANA
Each company's path to S/4HANA is different, but they all started with a business case that helped secure funding and sponsorship for S/4HANA. Essentially, your business case will answer why the company should migrate to S/4HANA. Let's dive into the steps to building a case to win support for your company's digital transformation!
Identify the quantitative pain points for your S/4HANA business case:
Connect your business's pain points with S/4HANA capabilities: It's vital to understand your current business performance to, therefore, identify the business issues you'd like to tackle. Only after familiarity with S/4HANA's capabilities can you connect the two together. For example, S/4HANA's live inventory management can solve your supply chain's inability to check your inventory's availability.
Quantify the monetary cost of your pain points: The second step is when you determine how much revenue you're losing because of each business pain point. We recommend benchmarking your numbers against competitors and peers in the industry with available annual statements and analyst reports. There are also SAP tools that can assist you in this step.
Estimate potential improvement range with SAP S/4HANA: How much can S/4HANA's capabilities save costs and improve your revenue? Consult with your SAP account executive to schedule a meeting with a customer reference in your industry and region. Resources like SAPinsider webinars and SAPPHIRE NOW replays are also sources you could find quantifiable results in the customer S/4HANA implementation stories. In this step, we recommend using a conservative estimate model (based on small improvements) and a "likely" estimate model (based on moderate improvements) because the potential improvement range varies with industry, region, company size, and IT systems maturity.
This is only a quantitative foundation of where to start for creating a S/4HANA business case. We recommend further refining of the figures and analysis. While some of these figures can be difficult to quantify, you shouldn't write it off in the final business case.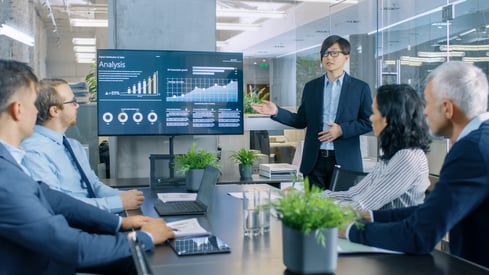 Incorporate qualitative pain points into your SAP S/4HANA business case:
Aside from the financial impact of S/4HANA, consider how the solution can transform all the functions of your company. Building a business case for S/4HANA must factor in input from the various departments in your company. It's not a one-man team!
Identify the key stakeholders for SAP S/4HANA: The intelligent platform isn't just for one business function within the company; it affects all. It's crucial to identify a few of the top business functions that would benefit the most from a S/4HANA migration to include in your business case. Use the information you've compiled from investigating your company's quantitative pain points to assist in picking the right stakeholders.
Discuss priorities and pain points with the executive team: Meet each stakeholder separately to discuss the current performance of your ERP system in relation to the company's strategic business objectives. Understand your stakeholders' pain points and the impact those issues have on the company overall. For example, a lack of automation of processes in the ERP system leads to a failure in meeting customer expectations due to long project cycle times.
Connect the qualitative and quantitative pain points: From the discussions with your key stakeholders, you can then connect the quantitative data with the qualitative pain points provided. For example, a monetary loss in unaccounted warehouse inventory can be linked with the need for an intuitive ERP system. This is valuable information to validate the analysis in your business case.
After collecting all the necessary information to build your business case for SAP S/4HANA, it's time to put it all together. In your business case, tell your company's story of how S/4HANA can improve its quantitative and qualitative pain points! It's your time to show how your company can gain a competitive edge by becoming an intelligent enterprise.
Resources to build your SAP S/4HANA business case:
Preparing for SAP S/4HANA at Your Business
Preparation is the name of the game! Once you have the company's full support for SAP S/4HANA, it's time to prepare your business for its implementation. The pre-transition stage is as important as the migration itself to ensure your ERP system is fully prepared to use S/4HANA.
The most important step to prepare for a transition to S/4HANA is to essentially conduct an audit of your business data. Clean your data to catch errors and fix them before processing the data in a new environment using tools like the S/4HANA Readiness Check offered by SAP.
Aside from preparing the data, you need to prepare your stakeholders, including executives and end-users, for the migration as well. There are plenty of training workshops and webinars hosted by SAP that supports your company to seamlessly use S/4HANA.
Resources to help you prepare for migration to SAP S/4HANA:
Are you prepared for an SAP S/4HANA migration? After gaining support from the company with your S/4HANA business case, it's full speed into preparations before transitioning business data and your team to a new solution that will push your company ahead of its competitors.